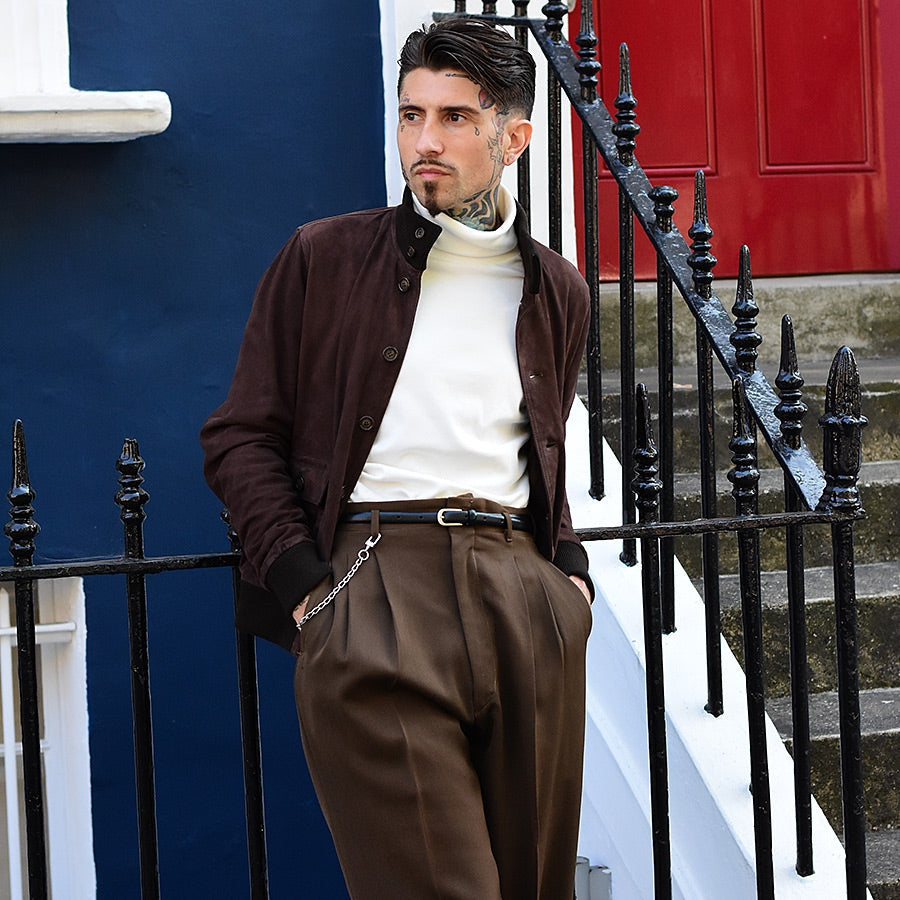 A day in London with the closet of Wools Boutique Uomo
It's a late Monday morning in September in London.
The streets of Portobello Road are quiet, compared to the weekend's crowd madness. The crispy air signals the beginning of Autumn, while the rays of the sun still remind us of Summer.
Yamina and Lou, or as he calls himself "London Boy Lou" -like his Instagram username- meet in a café near Ladbroke Grove Station in West London before heading to what seems to be their chosen location for a photoshoot in perfect WBU style.
London has become the ideal choice in terms of where to live for both. It is indeed, a city that has welcomed throughout the years a variety of people and their cultures, offering them the experience of living in a melting pot of opportunities and new beginnings.
Yamina, an upcoming photographer and Lou, a tattoo artist and model in his spare time, analyse and decide on the coats, jackets and ties to shoot with first while they chat over a cup of coffee.
WBU selected some favorited pieces from its closet in Rome and flew them over to the British capital, where cultures mix and fashion sovereigns. These two concepts are, in fact, the main topic of this special photoshoot.
WBU's attentive research for quality and details of selected brands is at the base of the Boutique's concept. WBU strongly believes in a timeless sense of fashion, primarily Italian top quality yet with an influence from the rest of the world, exclusively for a contemporary gentleman.
Therefore, what better city to inspire the Autumn/Winter collection than London, with its red brick walls, old fashion pubs and marvellous parks to walk through on a November day?
From the cafè, our photographer and model start to make their way towards Portobello Road, stopping in suitable areas along the way to snap some shots. Yamina has a great eye in choosing what will look good as backgrounds in pictures, capturing the right mood and lighting.
Luckily, it is a warm sunny day for London, and the streets of Portobello started to get busy as time passed. The iconic road is steeped in history and its numerous cafés and vintage/antique shops attract an interesting and diverse array of visitors. London's historical cafès make you want to stay seated at your table and watch people pass by, going about their day while you frame time with a cup of tea for a moment. Yamina chose a lovely, quintessentially London pub. The colours of the interior matched the outfit Lou was styling.
Brits' fashion could be considered a bit more eclectic than Italians' more rigid style. Both extremely stylish cultures, Italians are followers of fashion, believing in essential pieces to own in order to be in style; they cleverly choose outfits than can be worn from day to night. Whereas in Britain there's a general emphasis on going all out and differentiation.
WBU takes these two fashion-oriented cultures to enhance an outstanding collection of timeless pieces. [ editor by @sabinangel ]
A London-based photographer from Italy with Algerian descendence, Yamina Laidani discovered her passion for photography at 16, and was able to truly pursue her artistic career after she moved to London in 2017; "It's been a great dose of creative inspiration ever since I arrived here. The mix of cultures and the architecture surrounding you make living here more inspiring every day" she says.
Passionate about black and white photography and prefers masculine protagonists in her pictures, Yamina casually scouted Lou through Instagram one day and decided to reach out to him for some of her projects.
Lou Christou is a third-generation Londoner. His paternal and maternal grandparents emigrated from Cyprus and Ireland respectively in the early 1950s and settled in Haringey, in the north of London, where Lou grew up.
He then moved to London where he lives now and works as a tattoo artist and writer. His tattoo designs are in a vintage-inspired illustrative style, many of them based on Victorian fashion plates and Punch magazine cartoons.
Lou's debut novella will be out in January 2021.
Mr. Lou Christou wears:
- Loden Coat Hubertus Oliv Green by Schneiders
- Loden Coat Hubertus Navy Blue by Schneiders
- Valstarino A1 Military Flight Jacket Suede Sandal
- Valstarino A1 Military Flight Jacket Suede Caffè
- Handmade ties F.Marino for Wools Boutique Uomo